Dropbears Selection Timeline & Player Applications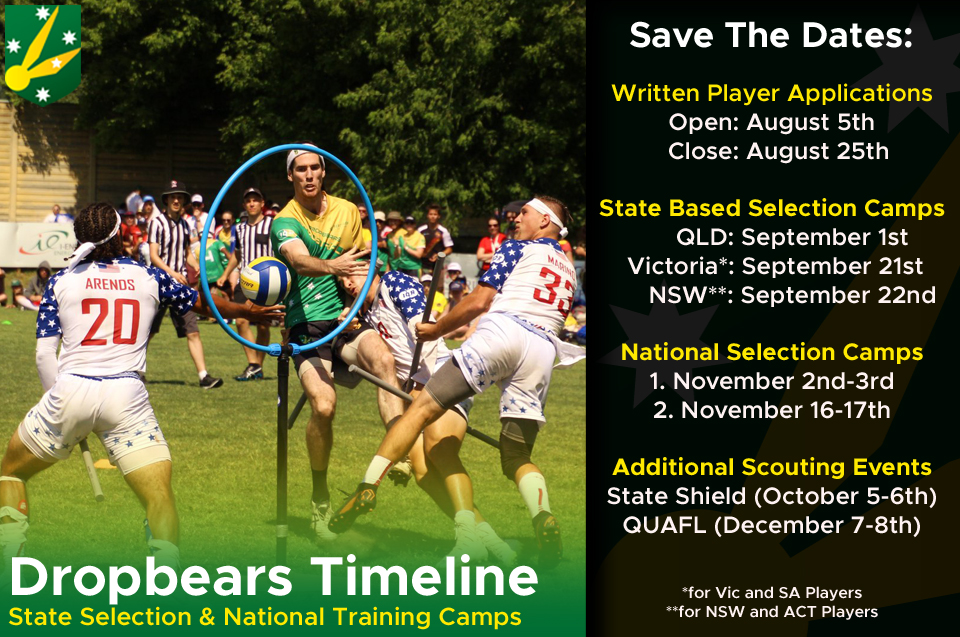 We are excited to announce that player applications are now open for the Australian Dropbears for the 2020 World cup in Richmond, USA.
Please note applications will close at midnight on Sunday 25 August 2019.

Trials for the 2020 team will consist of three state-based camps and two national selection camps. Based off results from the pre-screening state-based camps, and, if applicable, State Shield, 50 individuals will be selected to attend both national camps.
Inability to attend state-based camps and (if selected to attend) at least 50% of national selection camps must be justified.

State-based camps

Queensland: September 1st
Victoria: September 21st (For Victorian and South Australian Players)
New South Wales: 22nd September (For New South Wales and Australian Capital Territory Players)
Quidditch Australia's State Shield: 4th – 5th of October
National Selection Camps:

National Selection Camp #1: November 2nd & 3rd
National Selection Camp #2: November 16th & 17th
QUAFL 2019: December 7th & 8th