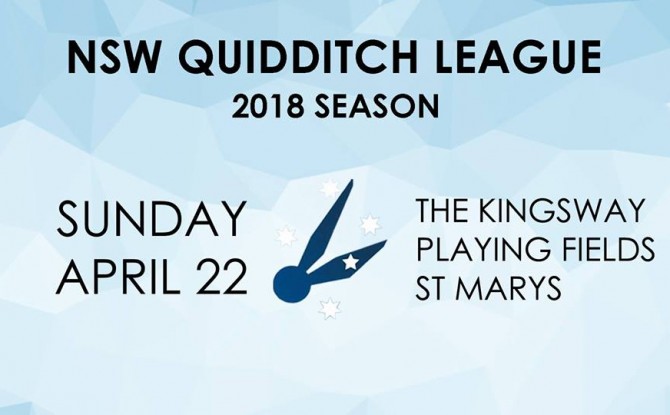 The One-Arm Wrap: NQL Division 1
With two pre-season rounds complete, the NSW State League, NQL, finally moves into pool play this coming weekend. With a brand new division system in place, teams can expect close match-ups in every single game they play. The Divisional split is based entirely on the results of pool play from the 2017 season, with six teams in Division 1 and seven in Division 2. Here are the results from pre-season play.

QA Today's Cameron Caccamo takes a look at the teams that make up Div 1 – including each team's record, how they're tracking, and what to expect from them now that we enter pool play.
SYDNEY CITY SERPENTS
Divison rivals: 4 games, 4 out-of-range wins (ANU, NEW, WSQC, UNSP)
Other games: 3 games, 3 out-of-range wins (WEAS, UNBR, HIHO)
The reigning State Champions can boast seven out-of-range wins in as many games, and enter pool play as favourites to keep that streak up. What's even worse for the competition is that they are yet to field a full team, missing several key pieces including Dropbear Beater and Captain Natalie Astalosh, and Dropbear reserve Keeper Raj Kapoor, for the entirety of the pre-season, while star Dropbear Beater Luke Derrick has played Keeper.
However, those scores don't tell the full story. Their closest games were against Western Sydney and the Unspeakables, and both of those teams registered early red cards to their best players (Dropbears Miles Newton and Brandon Frison respectively) which took out a lot of offensive pressure and allowed the Serpents to stay out of range. Their games against Western Sydney and ANU also saw them play under-strength teams. With the competition only beginning now, those wins may mean very little if their Division rivals bring their A-game.
Match ups this weekend: MUQC, ANU, NEW
Editor's note: Cameron Caccamo is the Manager of the Serpents
UNIVERSITY OF SYDNEY UNSPEAKABLES
Divison rivals: 3 games, 2 out-of-range wins (MUQC, ANU), 1 out-of-range loss (SERP)
Other games: 3 games, 3 out-of-range wins (SOAP, UNFO, OPAL)
The Unspeakables had a fantastic start to 2018, showing dominance over five of their opponents including Divisional rivals ANU and Macquarie. Chasers like Dropbear Brandon Frison and Dropbear reserve Samantha Chittenden lead from the front, while their Keeper line of Max Brenner and Nick "The Fridge" Albornoz is arguably one the best in the state.
Their one loss was against the Serpents – a rematch of the heated 2017 QUAFL quarter-final. The difference between the two teams came down to the ability to finish an offensive drive – with a desperate Serpent defence able to stop a couple of goals, while Serpents were lucky enough to have a couple of second chances at goals on their drives. The next big challenge for USyd will be a 2017 NQL Semi-Final replay against Western Sydney this weekend – with a win there cementing their status as one of the top two teams in the state, before a tantalising rematch with the Serpents in May.
Match ups this weekend: WSQC, NEW, MUQC
WESTERN SYDNEY SPARTANS
Division Rivals: 2 games, 1 double-overtime win (MUQC), 1 out-of-range loss (SERP)
Other games: 4 games, 4 out-of-range wins (WEAS, UNBR, WWQC, UNFO)
Western Sydney will be glad to welcome back several players that weren't able to play at April's pre-season round, and will be hoping to return to the destructive form they showed at March's pre-season games. Their under-strength April team were taken to double-overtime by Macquarie, while their game against the Serpents saw Miles Newton receive two yellow cards early in the match, leaving them with a lot less offensive pressure.
With a full squad, you can expect Western Sydney to be far more dynamic on offense and will be looking to make an impact in pool play. They go into this weekend having played none of their opponents this year; it's a great opportunity to show off what a full-strength WSQC is capable of against some of the strongest teams in the competition.
Match ups this weekend: UNSP, NEW, ANU
ANU OWLS
Division rivals: 4 games, 1 in-range win (NEW), 2 out-of-range losses (SERP, UNSP)
Other games: 4 games, 4 out-of-range wins (WWQC, WEAS, SOAP, UNBR)
ANU has not played as a full strength team this year – at March, some of their best players played with the Unforgiveables, and in April some of their players were at Sunshine Coast Fantasy. Their current divisional record reflects that, while their dominance over Div 2 teams shows what the team is capable of at full flight.
Their roster for this weekend indicates they're back at full-strength, just in time for pool play. With games against the Serpents, Western Sydney, and Macquarie, we'll all get a better look at this ANU outfit and where they'll fit in Div 1.
Match ups this weekend: SERP, MUQC, WSQC
NEWCASTLE FIREBALLS
Divisional Rivals: 3 games, 1 out-of-range win (MUQC), 1 in-range loss (ANU), 1 out-of-range loss (SERP)
Other games: 3 games, 2 out-of-range wins (UNBR, WEAS), 1 in-range loss (UNFO*)
The overwhelming feeling you get from watching Newcastle play is that the team is big – they have a lot of tall and strong players, and are quite imposing for newer teams. However, in many of their games they don't even need to physically dominate the game to win – their game against the Unbreakables featured a lot of long passes to unmarked receivers on the hoops. This makes them quite the threat in Div 1, as they can easily match it with the more physical teams or play deftly around their opposition.
Discounting their loss to the ANU-bolstered Unforgiveables, Newcastle won't be too displeased with their preseason. Soundly defeating Macquarie and keeping pace with ANU, they've shown that they can be a real force in Div 1 – and they get to show that again this weekend with three tough matchups.
Match ups this weekend: UNSP, WSQC, SERP
MACQUARIE MARAUDERS
Division Rivals: 3 games, 1 double-overtime loss (WSQC), two out-of-range losses (UNSP, NEW)
Other games: 3 games, 1 out-of-range win (WWQC), 1 in-range win (SOAP), 1 in-range loss (UNFO*)
After losing some of their most senior players at the end of last year, Macquarie were always going to need some time to rebuild their team – and now find themselves playing against the best teams in the state regularly. Despite the less than ideal circumstances, they've shown they can still mix it with the best, taking WSQC to double-overtime at April's pre-season round.
They perhaps have the toughest of schedules, facing the Serpents, Unspeakables and the Owls this weekend. If Macquarie can play like they did against Western Sydney, they'll be able to keep up even in Div 1.
Match ups this weekend: SERP, UNSP, ANU